Your office is in London, it is a high foot traffic place, clients, delivery people, and employees coming and going all day long. With all those feet tracking dirt into the office the carpets get filthy. At the next budget meeting, it is decided to take from the office maintenance fund some money to clean the office carpets.
Clean = Productive
A clean office is a productive place for work to get done. It is a healthier office to work in. Dust builds up in the carpet, dust and pollen get stirred up when people walk on it that can affect those with respiratory difficulties. Sure, the office gets vacuumed every night after everyone has gone home. Vacuuming alone will not remove all the ground in dust and grime left by all the feet that walk on it. Not to mention how many cups of tea have been spilled on the carpet. Now that you have decided to have the carpets in the office cleaned, how are you going to choose which commercial carpet cleaning company will win the contract?
Video for Office Carpet Cleaning London
What To Look For When Choosing An Office Carpet Cleaning Company.
Just as clients choose your company to do business with, you will have to select a company to clean your office carpets.
How do you do that?
You want to check the company's reputation for quality work.
Where to look? Start by asking for other businesses names that the cleaning company has done carpet cleaning for. Go talk to the people responsible for approving the carpet cleaning work done at the referred companies.
Go to the Facebook page of the potential carpet cleaning company and check out what other clients say. Compare the number of negative responses to the positive ones. That is a good indicator whether you will be hiring a competent carpet cleaning company to do your carpet work.
Check With Competitors
Now you have narrowed the field down to two or three companies to clean your office carpets, talk to their competitors. A good honest business competitor should be willing to tell you the truth about the company you want to hire. If there are negative results, do all the other competitors say the same thing?
You should talk to three for four different competitors, then weigh the differences in what the competitors say. There could be one that holds a grudge against the company you are thinking of hiring, and the reason may not have anything to do with the carpet cleaning business.
Now that you have received a clean bill of health on the two or three choices, what services and guarantees do these carpet cleaning companies provide?
Images :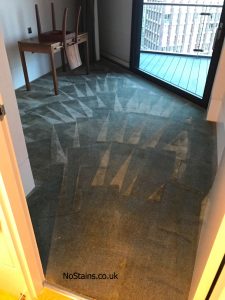 What To Look For
What type of cleaning method do they offer?
Hot water extraction (Steam Cleaning) with fiber friendly compounds.
Do they use the dry compound method with quick drying times?
Do they clean the entire office, including bathrooms, company kitchen or lunchroom and entrance hallway, etc.?
Do they employ carpet stain removal as a standard part of their service?
Do they quote to total cost up front or do they apply hidden charges after the job is complete?
Will they clean the office after hours or on weekends when the office is closed.
Is their pricing close to what other office cleaning companies? That pricing is between £2 sqm and up.With all the legwork done by choosing the right office carpet cleaning company that will get the contract, you can now relax.You know that once the office carpets are clean that your work environment will be a healthy and productive one. You will have happier clients, that is a bonus.
Regardless of whether you're looking for a quick refreshing of furniture and carpets, or simply a just one-off cleaning; we will gladly handle both equally with fantastic excellence. We strive to deliver quality services and we have your needs covered.
Click Here to see some of our cleaning services
London Location- Deep Clean
When it comes to carpet cleaning in London, NoStains is the name to trust. We strive to deliver quality services and we have your needs covered.
Please find below some of the locations that we cover in London