Carpets create an intimate atmosphere in the office. However, over time, they lose their original appearance and need to be cleaned.
Carpet cleaning can be very complicated. Materials from which they are made are not particularly strong, and choosing the right technology to remove dirt without damaging the carpet is very difficult. Owners' attempts to clean that fleecy material by himself can lead to irreversible consequences, so it's better to call professionals to do it for you. Commercial carpet cleaning service can do it right on the spot.
Why leave it to professionals?

For a full-fledged effect, you need to contact commercial carpet cleaning experts, which are engaged in the professional cleaning of carpets by using different cleansers. If you do this yourself, it is impossible to achieve a full result, and in some cases, you can even ruin the product.
It's only possible by using high-quality cleaning equipment that can effectively clean any carpets. Using latest technology and anti-allergenic solutions, commercial/office carpet cleaning specialists are able to remove any dirt from carpets (different stains, dust, animal hair, microscopic parasites), and unpleasant odor from it.
Cleaning methods
Depending on the type of carpets (natural or rubber-based) and from the amount of contamination (natural carpet, rubber basis, etc.), commercial/office carpet cleaning experts will select the right method of cleaning.
Wet cleaning
For deeper cleaning of office carpets, wet cleaning methods are used, for example, extraction with hot water. This is one of the most popular methods, but it will remove all contaminants. Among other things, it leaves a minimum of chemicals in the carpet and also prevents the stratification of its fibers.
Steam cleaning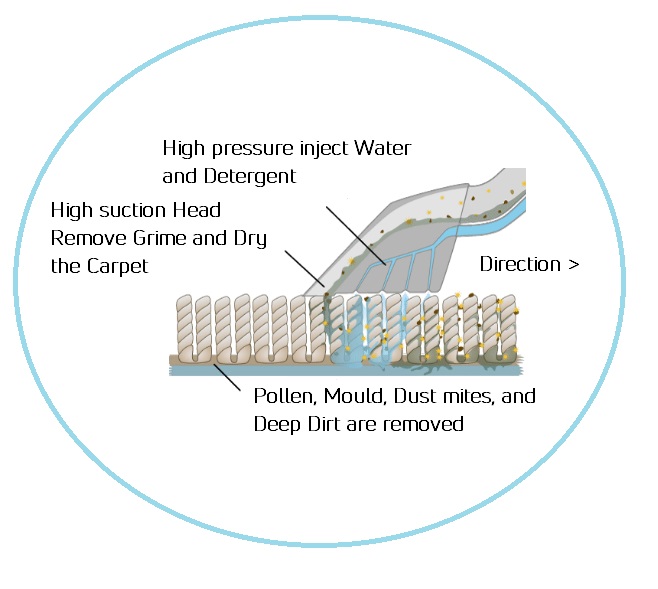 Steam cleaning is an effective, environmentally friendly, absolutely safe method from nature, superior in its properties to many chemicals.
Steam penetrates deeply into carpets destroying all the living things on his way, while the carpet's piles remain intact. Steam not only kills the microflora, it dissolves dirt, eliminates unpleasant odors.