Carpet Cleaning Barnet (London) 
Carpets are great home investments that should last you for several years. They don't just make your den look more appealing, they are also relatively easy to install and maintain compared to most other flooring surfaces. Ideal for homes with young children and elderly, carpets also offer a foolproof way to avoid slip and fall accidents which can lead to serious injuries.
Depending on the type of exposure your carpet gets, on average carpet replacement takes place every seven years.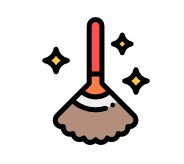 With the price tag that comes along with most high quality carpets today, ideally you would want to keep your carpet longer, possibly for more than a few years.
Here are some carpet rules you need to consider to dramatically extend the life of your carpet at home:
Keep the Dirt Outside: Sorry, But No Shoes Allowed Inside 
If you are serious about extending the longevity of your carpet, implementing the no shoes allowed inside policy is one of the carpet rules you should consider. Shoes can bring surface soil dirt which can dull out the color of your carpet. And not only that, shoes carry grimes, bacteria and germs and for sure, you don't want them inside your home.
Vacuum Regularly

house cleaning NoStains Ltd.
The key to extending the life of your carpet is cleaning. Vacuuming can seem to be a major household chore (and may spoil your weekend offs) but it is one of the easiest ways to maintain your carpet. 
Rotate Your Furniture Every Few Months 
Heavy footing from your furniture can wear out confined areas of your carpet. To avoid these premature wear areas, it is recommended that you move or rotate the positioning of your furniture on a regular basis. 
Be Proactive With Spills and Stains
While you certainly can't prevent spills and stains from happening, you can take care of your carpet by acting fast when 'accidents' happen. Immediately clean up spills and do spot cleaning where appropriate. 
Use rugs and mats on high traffic carpet areas to help extend the life of your carpet. 
Get a Professional Carpet Cleaning Service, At Least Once A Year
 Professional deep carpet cleaning is one of the best methods to keep your carpet in its best shape longer. Professional cleaning can ensure deep cleaning that only eliminates the dirt but also the germs and other harmful contaminants from your carpet.
Looking for the Best Professional Carpet Cleaning Service in Barnet? 
Choosing the best professional carpet cleaning service does not have to be stressful. Our company provides professional carpet services with the toughest solutions while we strive to be gentle on your budget.
We Care.
Our team is committed to provide the best service to our valued customers.
We Protect.
We aim to protect our environment and your family. We only use safe and non-toxic cleaning agents.
We Provide Solutions.
Be it chemical stains, urine spots, or dreadful odor, we offer the best technology and cleaning solutions for your carpet cleaning needs.
We Deliver Service.
Our employees are specially trained and equipped with knowledge about proper carpet handling and cleaning no matter what type of carpet you have.
Contact us today and find out why our customers believe we are the best choice when it comes to carpet cleaning services here in Barnet.
Regardless of whether you're looking for a quick refreshing of furniture and carpets, or simply a just one-off cleaning; we will gladly handle both equally with fantastic excellence. We strive to deliver quality services and we have your needs covered.
Click Here to see some of our cleaning services
Other London Location
When it comes to carpet cleaning in London, NoStains is the name to trust. We strive to deliver quality services and we have your needs covered.
Please find below some of the locations that we cover in London