Do you vacuum your carpet 2 or 3 times a week and your carpets still look out of sorts?  Have you given any thought to having a commercial carpet cleaner come and clean your carpets? What should you expect to pay for the room or for the whole house? You live in the UK, what are the commercial carpet cleaning prices in the UK?
Take look at the two best cleaning styles used by commercial carpet cleaners and what you can expect to pay for this service. There so many different methods to extract dirt from your carpets, dry compound cleaning, steam cleaning, or hot water extraction. The carpet cleaning method depends on the fabric of the rug to be cleaned. 
Hot Water Extraction Or Steam Cleaning
The best cleaning method for clean carpets is steam cleaning. By using a hot water extraction machine, hot water with detergent is injected into the carpet fiber under pressure. The extraction machine pulls the hot steamy water from your carpet, and the dirt, mildew, and allergens are sucked up into a separate holding tank. Considered by many commercial carpet cleaners as the best service for your money. What are the prices for steam cleaning?
Broken down by room here is some of the pricing:
Bedroom: £28 is pretty close, give, or take.
Bathroom: £15 is average.
Hallways: £25 without a discount.
Livingroom: £40 the same for a dining room.
Landing: £5 with a discount.
Dry Compound Cleaning
This is the best cleaning method if you own carpets that are delicate or sensitive to moisture such as seagrass, jute, sisal, silk, and so on. No humidity here, a dry powder is spread over the carpet with a particular machine. Let the dry compound and then the dust, dirt, and allergens will be removed by vacuuming. Dry time, immediately after vacuuming the dry compound up. What are you expected to pay for dry compound cleaning?
Here are some prices for dry cleaning your carpet:
Bedroom: £18*
Lounge/Dining Room: £30*
Hallway: from £10*
Stairs: £28* Up to 14 steps.
*For average-sized rooms, larger you pay more.
Images for carpet cleaning UK: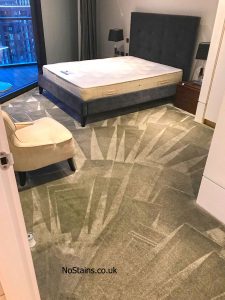 Of the different methods for carpet cleaning pricing, two were chosen for discussion as they are the two best cleanings for your money. You will pay between £113 and £130 for cleaning your home with average-sized rooms. Do your research, some cleaning companies will inflate their rates for a few weeks, reduce them back to norman, and call that a discount.
Regardless of whether you're looking for quick refreshing of furniture and carpets, or simply a just one-off cleaning; we will gladly handle both equally with fantastic excellence. We strive to deliver quality services and we have your needs covered.
Click Here to see some of our cleaning services
London Location
When it comes to carpet cleaning in London, NoStains is the name to trust. We strive to deliver quality services and we have your needs covered.
Please find below some of the locations that we cover in London